Things That You May Wanna Know About Study in China 2023
01 Do I need to do centralized quarantine after I arrived in China?
From January 8th, 2023, international travelers to China no need centralized quarantine according to China National Health Commission (NHC) said in a statement on December 26, 2022.
Latest policy for international travelers to China is :
1. Before coming to China passengers only need to take nucleic acid test within 48 hours negative certificate before boarding their flights to China.
No need to apply for "Green Health Code".
2. After Arriving in China, no need centralized quarantine
02 Chinese Universities Open for 2023 Intake Application
SICAS experienced Advisor shared top 5 Reasons to Study in China
Q1. When do Chinese universities open for 2023 Intake Application
Chinese universities normally contains two admission intakes every year, March intake and September intake. Usually, the application for March intake start from September to January next year; The application for September intake start from January to June. But some universities like Tsinghua University already start their 2023 September admission from August 25, 2022.
Q2. I will get my final result in June, 2023. What should I do and When should I start application?
About Application for Study in China, always remember the early the better because of the following reasons:
1. Limited enrollment quota
2. Early birds catches the worm
3. Enough time for you to understand the application procedure
4. Enough time to prepare application documents
5. Well prepared for a good start in university
Because most Chinese universities will end application before end of June and then start summer vacation, so it not wise to start when you get all documents ready. You can use pre-graduation certificate and your regular result to start application first. Chinese universities can understand and accept this situation.
Read more
03 2023-2024 China University Scholarship Guide
Q1: How to Choose a right University
A: First of all, you need to determine the major you want to study or the city you like.
Then according to your academic performance to determine the general range of schools to choose
Finally according to some more detailed conditions, how many scholarship they offer each year
Q2: How to prepare your documents in a better way to ensure your admission / scholarship ?
A: Complete/Color Scan/ Clear Formal transcript/Certificate with stamped
1. Use a scanner to color scan your documents and create an image on your computer,
2. You may use a digital camera or mobile phone with camera, be sure to make the photos clear and legible
3. Each file 1-2 8 MB (megabytes) is better and all the materials should be image files (.gif, .jpg), Adobe PDF, (.pdf) documents, MS-Word (.doc), or compression files (.rar, .zip).
Application Documents:
1. Valid passport
2. Personal Statement (written in either Chinese or English).
3. Diploma/Certificate of your highest education
4. Transcripts of your highest education
5. Two reference letters written in Chinese or English. (compulsory documents for master /Phd applicant)
Additional documents according to different universities
1. Honors & Awards Certificates and other certificates
2. Bank statement.
3. non-criminal certificate
4. physical examination form
Q3: Scholarship Types in China
Chinese Government Scholarships
Chinese University Scholarships
Confucius Institutes Scholarships
Check least information about 2023-2024 China University Scholarship Guide
04 About Flight to China
Since October, many airlines in China have implemented the deployment of gradually and steadily increasing regular international passenger flights, formulated flight recovery plans, and successively resumed and added flights on many international routes. International flights to China is increasing , and ticket prices will decrease.

In these days, more international flights to and from China have increased. Here we collect some information for your reference.
the first Sino Russian passenger route resumed at Harbin Airport on November 14, 2022
the first scheduled passenger route in Eastern Europe resumed in Chongqing on November 18, 2022
Lufthansa Group's weekly flights to China and Europe in Shanghai have increased to four from November 28, 2022
the first European route operated by Air China in Wenzhou on November 28, 2022
SICAS Tips:
1. Hot Chinese cities with international passenger flight reception capabilities:
Beijing, Chengdu, Dalian, Guangzhou, Nanjing, Harbin, Hangzhou, Hefei, Hohhot, Jinan, Kunming, Nanchang, Nanning, Nantong, Ningbo, Qingdao, Xiamen, Shanghai, Shenzhen, Shijiazhuang, Taiyuan, Tianjin, Wenzhou, Urumqi, Wuhan, Xi'an, Changchun, Changsha, Zhengzhou, Chongqing
2. You will be quarantined in the first city you enter China. If you need a connecting flight to reach the city where your school is located, do not buy your domestic connecting flight ticket first before you come to China. The isolation policy of each city may change. You can buy domestic air tickets when the isolation is almost over.
Tired from a long-way flight?
Arrived too late ?
Language barrier with taxi drivers?
SICAS Pick-up Service-Clear All Your Problems!
We'll send photos to your parents
Tell them you've arrived SAFE and sound
We'll drive you to hotel if you arrived at night, then you can have a good rest after a long-way flight.
Learn more about SICAS Airport Pick Up Service.
05 What should I prepare for packing before studying in China?
Q1: What should I prepare for packing before studying in China?
A: This is a SICAS basic list of what you should bring for studying in China. Make sure getting these things with you before boarding the flight.
Miscellaneous Items
These things are essential when you entering into the country:
1. Important documents (passport, visa, itinerary, plane tickets, related health certificate)
2. Photocopy of your passport information pages. Also leave a copy at home.
3. Epidemic prevention supplies (mask, protective clothing )
4. International calling card and access numbers for the countries where you will travel.
5. 500-1000 RMB in cash when you first arrive for transport and check-in
6. Address and phone number of your university admission office
7. Nucleic acid test certificate
8. Vaccine registration certificate
9. other documents required by your university
Clothing/Shoes
1.Consider both the physical & social climate; dress accordingly.
2.Dark colors do not show dirt as readily
3.Comfort and practicality are the keys for both clothing and shoes
4.Pajamas (2 pair)
Toiletries
Don't overstock on toiletries because most things are available in major cities in China. Remember to transfer liquids from breakable containers into plastic containers and use tape to seal the lids when traveling or pack them in ziplock bags to separate them from clothing
1.Shampoo/Conditioner
2.Toothbrush/toothpaste
3.Soap
4.Tissues
5.Prescription drugs for the duration of your time abroad (in your carry-on)
6.Extra eyeglasses
Beside the far southern part of the country where is warm all year round, most part of China has four very distinct seasons and the temperature can be range from -10 to 30 centi-degrees annually. Both T-shirt and warm coat might be necessary while you are living in China.
Voltage
Electronic appliances in China operate on 220 voltages. If the voltage standard is different in your country then you will need to purchase a travel voltage converter (or, if the appliance is relatively inexpensive, purchase a new one in the host country). What's more, Voltage isn't the only thing that varies from country to country. Electrical wall outlets also differ in shape, assortment and arrangement of holes. To be prepared, make sure you get an adapter set to go with the converter. You can inquire about international voltage converters at an local electronics store.
Safety
Face mask
Disinfecting wipes
SICAS Reminder:
1. Check airline regulations for weight, size and number of bags
2. In your carry-on, keep a change of clothes, toiletries, valuables, important documents (passports, visas, arrival instructions) and medications in their original containers
3. Clearly identify your luggage inside and out with your name and address on it. Colored tape can make it easy to identify among similar baggage.
4. Lastly, you should keep your money, important documents, valuables, medication, a change of clothing and some toiletries in your carry-on in case your luggage gets lost.
For Bachelor applicants you may interested in :
search more Bachelor programs
Search more Master programs
Search more Doctoral programs
Only Four Steps to apply Chinese Universities on SICAS website

As a service provider, SICAS has a broad cooperation and the best relationships with China's universities. They authorize us to represent them to help publish the latest enrollment information and other useful information. Also, SICAS on-line platform ensures the Chinese Universities to process the applications of international students more efficiently, safely and accurately.
You can easily get all the most useful information for free on our website:
SICAS ( Study in China Admission System) Welcomes you all to apply to study in universities in China.
Email:service@sicas.cn
Tel/ Wechat/ Whatsapp: + 86-15318861816
You can scan this QR code to Add SICAS official wechat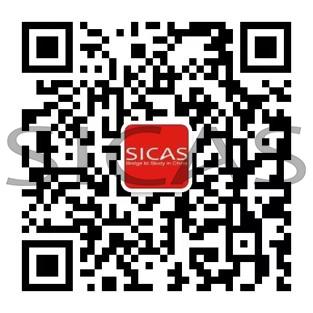 You can scan this QR code to Add SICAS official WhatsApp