[Scholarship] 2023 Chinese Government Scholarship for Master's and Doctoral Programs at University of Science and Technology Beijing
University of Science and Technology Beijing Application of Chinese Government Scholarship 2023— Postgraduate Program
Duration and Values of Scholarship

Tuition fee, Accommodation, Living allowance, Insurance

Master Degree:2 or 3 years

Doctoral Degree:4 years

Elementary Chinese course: 1 year.
Applicants who apply for programs given in Chinese and have got only HSK4 instead of HSK5, are required to take elementary Chinese courses for one year. After completing the project, applicants have to pass HSK5 (no less than 180 points). Applicants who have got HSK5 can apply directly.
Majors for Applicants

All master and doctoral majors of USTB are allowed to apply for.
Application Eligibility
1. Applicants must be non-Chinese citizens in good health.
2. Education background and age limits:
1)Applicants for master degree must have a bachelor degree and be under the age of 35.
2)Applicants for doctoral degree must have a master degree and be under the age of 40.
Requirements for Language(Compulsory):
1)Chinese-Medium Programs: HSK4 (or levels above).
2)English-Medium Programs (for applicants from Non-English Speaking Countries): IELTS 6 / TOEFL 80 / Other official English Proficiency Certificate
Procedure for Application

1. Submit an application in the Chinese Government Scholarship Information System, choose TYPE B, agency number 10008. (There is no need to submit the pre-admission notice in the initial step of application.)
2. Submit an application in the USTB System (onlineapply.ustb.edu.cn), finish the registration fee payment. (The fee is not refundable regardless of the application result.)
3. USTB will review the application materials and inform the results by email.
Application Deadline

March 31st, 2023

This is a rolling admission process. The application process will end once the applicant seats are filled. Anyone interested please sign up early.
Application Materials

Please upload the soft copies of the documents mentioned below in the USTB application system.

1. Application Form of Chinese Government Scholarships.
Program Category: Type B
Agency Number: 10008
2. Photocopy of the first page of the Ordinary Passport . It should be valid until September 2023 or dates later than that, otherwise it needs to be renewed before application.
3. Degree Certificates in Chinese or English (Bachelor and Master).
Remark: Students expecting to graduate soon should provide an official letter stating the expected graduation date, then submit the degree certificate later if admitted to USTB.
4. Transcripts in Chinese or English (Bachelor and Master) up to the present, including courses taken and standard achieved.
5. Certificates for Language.
a)Chinese-Medium Programs: HSK5. (If applicants provide HSK4 certificates, they shall study 1 year's Elementary Chinese Course.)
b)English-Medium Programs: IELTS 6 / TOEFL 80 / Other official English Proficiency Certificate.
6. Study plan (research proposal), either in Chinese or English, no less than 1000 words.
Doctoral degree applicant's study plan is advised with the signature of the supervisor willing to accept the applicant as a student on it. (The supervisor signature is not a must.)
7. Two Recommendation Letters, including contacts, must be the Original in Chinese or English.
The referees should be professors or associate professors, who have knowledge of your academic background. Contents should focus on the requirements of the applicant's learning goals in China, as well as the evaluation of the students' comprehensive ability and future development.
8. Health Certificate Form for foreigners. (Valid within 6 months.)
9. Certificate of None Criminal Record. The applicant must submit a certificate of no criminal record within the valid period issued by the local public security organ, usually within 6 months before the date of submitting the application.
10. Acceptance Letter from supervisor. (Optional)
11. Table of contents and abstracts of your academic publications and any other original achievement in your field. (Optional)
12. Personal works. Applicants for art, design and other relative majors must submit their personal works (such as images, paintings, etc.). (Optional)
Note: Pre-admission notice is not required at the initial application stage. After the review, USTB will provide a pre-admission notice in soft version. After receiving it, applicants should submit it in the Chinese government scholarship system to complete the application for this program.

As a service provider, SICAS has a broad cooperation and the best relationships with China's universities. They authorize us to represent them to help publish the latest enrollment information and other useful information. Also, SICAS on-line platform ensures the Chinese Universities to process the applications of international students more efficiently, safely and accurately.
You can easily get all the most useful information for free on our website:
SICAS ( Study in China Admission System) Welcomes you all to apply to study in universities in China.
Email:service@sicas.cn
Tel/ Wechat/ Whatsapp: + 86-15318861816
You can scan this QR code to Add SICAS official wechat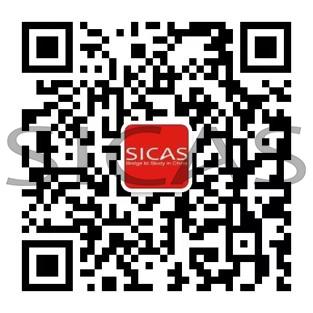 You can scan this QR code to Add SICAS official WhatsApp