[MBBS Admission] Study MBBS in Capital Medical University
Study
MBBS
in Capital Medical University
Capital Medical University (CMU) was founded in 1960. It ranks among the top academic medical institutions in China,and is considered as one of the key municipal universities in Beijing. The founding President, Professor Wu Jieping, was a world-renowned urologist, member of both the Chinese Academy of Sciences and the Chinese Academy of Engineering.
Why Study in Capital Medical University (CMU)
CMU is one of the key municipal universities in Beijing.

CMU provides excellent international exchange programs.

CMU ranks among the top academic medical institutions in China.

CMU is a well known academic institution for its strong competence in the scientific research.

CMU provides a wide range of educational programs for Doctorates, Masters, Bachelors and certificates.
MBBS in Capital Medical University
Tuition: 50,000RMB per year (qualified students can apply scholarship 10,000RMB pre year
Note: each MBBS student for CMU need to join Pre-medical class. tuition fee 12,5000RMB, 2-3months
Program Description
Main CoursesSystematic Anatomy, Histology and Embryology, Topographic Anatomy, Cytobiology, Biochemistry, Medical Biology Experiment, Medical Genetics, Molecular Biology, Physiology, Medical Functional Experiment, Medical Microbiology, Medical Immunology, Human Parasitology, Pathogenic Biology and Immunology Experiment, Pathophysiologist, Pharmacology, Neurobiology, Pathology, Abnormal human morphology Experiment, Inspection Body Diagnostics, Experimental Diagnostics, Medical Imaging, Surgery, Obstetrics and Gynecology, Pediatrics, Lemology, Neurology, Ophthalmology, Otolaryngology, Stomatology, Dermatovenereology, Psychiatrics, Evidence-based Medicine, Chinese, Advanced Math, Medical Physics, Medical Ethics, Medical Psychology, Basic Chemistry, Organic Chemistry

Study Duration6 years' Program include:1 year foundation course (on campus courses),2 year basic medicine (on campus courses),2 year clinical medicine (on campus and hospital courses),1 year hospital work (in hospital)Degree Awarded On completing the requirements of the teaching program and passing the graduation examinations successfully, international medical undergraduates will be granted a graduation certificate and conferred a medical degree by Capital Medical University (CMU)if they meet the degree regulations of Capital Medical University (CMU). The English copy of the degree will state MBBS (Bachelor of Medicine and Bachelor of Surgery).

Career After obtaining MBBS Degree, the graduates can apply to take the medical licensing examination in the medical council in order to get registered and practice medicine. According to the regulations in different countries, the students may need to do the degree accreditation first. A MBBS degree holder can find jobs in government as well as private hospitals, nursing homes and other health facilities. Except this, one can also start his own clinic or pursue study for master's degree.
Just four step to apply Capital Medical University on SICAS Website

As a service provider, SICAS has a broad cooperation and the best relationships with China's universities. They authorize us to represent them to help publish the latest enrollment information and other useful information. Also, SICAS on-line platform ensures the Chinese Universities to process the applications of international students more efficiently, safely and accurately.
You can easily get all the most useful information for free on our website:
SICAS ( Study in China Admission System) Welcomes you all to apply to study in universities in China.
Email:service@sicas.cn
Tel/ Wechat/ Whatsapp: + 86-15318861816
Just contact us through any of these channels below and get your exclusive SICAS advisor who will help you with the application and guarantee the success admission.
You can scan this QR code to Add SICAS official wechat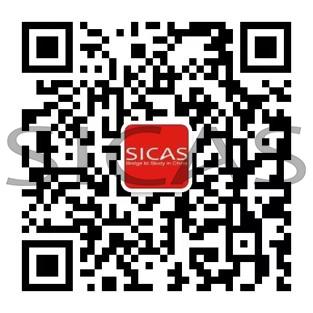 You can scan this QR code to Add SICAS official WhatsApp