[MBBS Admission 2023] Study English Taught MBBS in Dalian Medical University
Program Reviews
MBBS

program in English medium started since 2004 autumn.

The duration of the program is 6 years, including 1 year internship.

All teachers are local university faculty with rich teaching experience and abroad study or working experience.
Eligibility
The applicant should be between 18-25 years old,mental and physical healthy, has completed the senior high school course with good marks, satisfied with the following marks requirement, has solid financial support to afford the study and living expenses in China. Chemistry, physics, biology, English are compulsory subjects, maths is a reference subject for admission evaluation.
Program Highlights
1. Training goal
The objective of training is enable the students to obtain solid knowledge of basic medicine, normative clinical skills, excellent professional quality, and be able to have an effective international medical practice under the guidance of superior doctor; become the independent international practitioners with certain international competitiveness and can constantly improve their knowledge and skills and adapt to the international medical talent market demand through after-college education and vocational training; be friendly to China, have basic Chinese language communication ability and have a glimpse of Chinese culture.
2. Training requirements
Students should have the following knowledge, ability and caliber that meet the requirements of the quality control standard for medical undergraduate education (teaching in English) of China for international students.
(1) Good professional ethics and attainment.
(2) Mastering the basic knowledge and scientific techniques of natural science and social science.
(3) Mastering the basic theory, knowledge and skills in Basic Medicine and Clinical Medicine; being able to use knowledge in diagnosis and treatment of common or frequently-occurring diseases; having certain preventive medicine knowledge.
(4) Basic theory and skills in identification & classification of human disease.
(5) Basic ability to diagnose and treat emergency, difficult and severe diseases.
(6) Basic knowledge in Oral Medicine.
(7) Basic knowledge and skills in Forensic Medicine.
(8)Preliminary understanding on international health care and policy.
(9)Grasping and using Basic Chinese and Medical Chinese and knowing about China.
Top 10 reasons to join DMU
1. Ministry of Education (MOE) approved Government Model University for foreign student education.

2. Clinical Medicine ranks in ESI top 1%, 13 years experience of MBBS program in English.

3. Recognized and approved by WHO, Faimer, General Medical Council (GMC), New Zealand Medical Council, Thailand Medical Council, Pakistan Medical and Dental Council (PMDC), India Medical Council, Mauritius Medical Council, Ghana Medical Council, Sri Lanka Medical Council, Maldives Medical Council, South Africa Medical Council .

4. Three affiliated hospitals with more than 6,000 beds.

5. Faculty recruited from top universities and institutes
-- Faculty recruited from Harvard Medical School, M.D. Anderson Cancer Center, John Hopkins University, etc.
-- Collaboration with over 100 universities and institutes all over the world


6. Scholarships at different levels
-- Chinese government scholarship
-- Liaoning government scholarship
-- Dalian municipal scholarship
-- University scholarship

7. A university with diverse cultures
-- More than 1,100 international students
-- Over 110 countries students studied here

8. DMU successfully passed the education quality certification

9. Opportunity of training and working in famous companies
-- Neusoft
-- Mindray

10. International city, beautiful campus and comfortable dorm
-- Top five most pretty campuses in China
-- Campus with its own coastline
-- Dalian is famous for tourism
-- Comfortable climate
-- convenient living, wifi, hot water, attached bathroom, public kitchen, laundrary
Application Materials
Basic documents needed:
Passport and visa page, passport size photo, senior high school certificate/A level marks/national exam certificate or any equivalent mark sheet, IELTS or TOFEL if English is not your native/official language, declaration letter.
Other selective documents increasing admission rates:
Family financial proof certificate, medical check-up report, merit certificates, recommendation letter, and more completed information. The applicant who has the Chinese language background will be selected preferably under the same conditions.
*If you are underage (over 17 years old, but not reach 18 when school starts), you should submit the Guardian letter which should be attested by the Chinese embassy in your country.
How to apply

Just four step to apply Dalian Medical University on SICAS Website




You can easily get all the most useful information for free on our website:

SICAS ( Study in China Admission System) Welcomes you all to apply to study in universities in China.

Email:service@sicas.cn
Tel/ Wechat/ Whatsapp: + 86-15318861816

Just contact us through any of these channels below and get your exclusive SICAS advisor who will help you with the application and guarantee the success admission.



You can scan this QR code to Add SICAS official wechat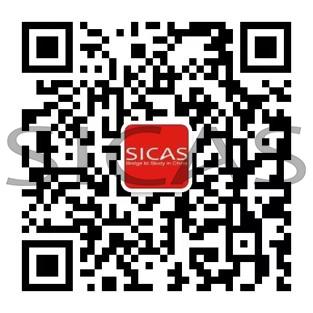 You can scan this QR code to Add SICAS official WhatsApp