2024 JNU Chinese Government Scholarship "High Level Postgraduate Program" Application Guide
Jinan University has started enrollment in 2024 intake!

Major, Level of Study and Scholarship Term
1. Majors available: All programs on postgraduate level are open for application, programs in Double First-Class are preferred.
2. Level of study: Postgraduate, including master and Ph.D. programs.
3. Term of the scholarship: 2-4 years, including Chinese Language course and Major Study. The term of Chinese Language year is generally 1 year, the term of Master Major Study is 2 -3years, and the term of PhD Major Study is 3 years.
Scholarship Content and Criteria
1. Scholarship Content: Full Scholarship, including tuition fees, accommodation expenses, monthly stipend and comprehensive medical insurance fees.
2. Funding Criteria:Tuition waiver; Free on-campus dorm or off-campus housing allowance; monthly stipend.
Application Criteria
1. Non-Chinese citizens, holding a valid foreign passport, be in good health, have good conduct, have no bad behavior records, and abide by the laws and regulations of the Chinese government and the rules and regulations of the University;
2. Applicants for a Master's degree should have a Bachelor's degree or equivalent, have excellent academic performance and be generally no older than 35 years old; applicants for a doctoral degree should have a master's degree or equivalent, have excellent academic performance and be generally no older than 40 years old.
3. Language proficiency requirements
(1)Applicants for graduate programs taught in Chinese can only apply if their Chinese proficiency has reached at least HSK level 4. Applicants having HSK Level 5 (inclusive) or above can apply to directly enter humanities and social science majors; those who reach HSK Level 4 with a score of 195 points can apply to directly enter science, engineering, and medical programs. Those who do not meet the above language requirements can apply for additional Chinese language course for one year. Only after passing the language assessment can they start their study as graduate student.
(2)Applicants for English-taught programs must provide proof of English proficiency, with a TOEFL score of 90 and an IELTS score of 6.5. If you are unable to provide proof of a standardized English test, applicants whose previous degree studies were taught in English must provide relevant proof. Applicants whose native language is English are exempt from providing the above-mentioned English proficiency certificate.
Application Procedure

1. Online application for Jinan University. Applicants log in to the Jinan University Graduate Admissions Information Network, enter the "International Student Application System" and submit an online application. At the same time, submit all the necessary application documents to the college/school.
2. College review. The college will conduct a preliminary review of the application materials, then organize interviews for qualified candidates, and submit the list of recommended candidates to the Graduate Admissions Office.
3. Review by the Graduate School. The Graduate Admissions Office will review the college's recommendation list, determine the University's nominees, and issue Pre-admission Letters to those nominated.
4. Apply Online for Scholarship. Those who have obtained the Pre-admission Letters should log in to the "Chinese Government Scholarship Study Abroad Management Information System" (http://www.campuschina.org), fill out the "Chinese Government Scholarship Application Form" online and submit the required application materials; the Agency Number for Jinan University Admissions is: 10559; the category of the "High-Level Postgraduate" Chinese Government Scholarship Project is: Category B. Applicants must upload the Pre-admission letter issued by the Graduate Admissions Office of Jinan University in the online application, otherwise the application will not be accepted.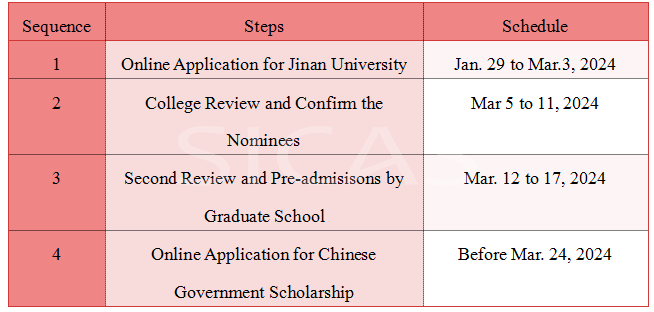 Warm Reminders
1. Applicants applying for this scholarship must complete two online applications. First, complete the Jinan University online application and obtain the pre-admission letter before you can submit the scholarship online application.
2. When applying online to Jinan University, applicants must also send an electronically scanned version of the application documents to the college by email. Please click the link below to view college contact information.
3. Applicants should start the online scholarship application after receiving the pre-admission letter issued by the Graduate Admissions Office of Jinan University. Students can prepare other application documents in advance before receiving the pre-admission letter to complete the scholarship online application more efficiently. Please click on the link below to view the scholarship application documents.
click here to find more courses in JNU.

How to apply
Study In China Admission System ( SICAS, http://www.sicas.com.cn ) is authorized exclusively to help international students on getting admission to Tshinghua University in a safe, efficient and accurate way.

Just four steps to apply Chinese Universities on SICAS Website
Contact us for details.
You can easily get all the most useful information for free on our website:

Email:service@sicas.cn
Tel/ Wechat/ Whatsapp: + 86-15318861816





You can scan this QR code to Add SICAS official wechat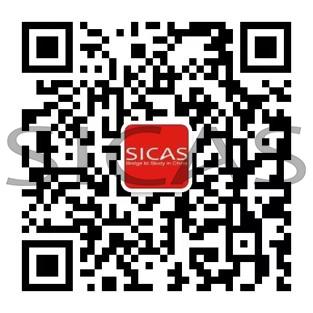 You can scan this QR code to Add SICAS official WhatsApp