ECUST International Undergraduate Program Open for Admission!
About ECUST

Located in the southwest of Shanghai, a center of commerce, finance, culture and industrial production of China, East China University of Science and Technology is a dynamic and prominent research-intensive university with high teaching quality. The university was officially founded in 1952. Today, the university has 17 academic schools, together with the MOE-approved Sino-French joint school, International Elite Engineering School. A wide range of programs, covering 11 disciplines, namely science, engineering, agriculture, medicine, economics, management, literature, law, art, philosophy and education, is offered to cater to the demands of the society and to prepare the students for an ever-changing global context. Chemistry is among Top 1‰ of World ESI Ranking, and Materials Science, Engineering, Biochemistry and Biology, Pharmacology and Toxicology, Agricultural Science, Computer Science, Environment/Ecology have walked into Top 1% group.
Qualifications
1.Applicants must be non-Chinese citizens and in good health, hold a high school degree or above.
2.Applicants must be aged over 16, those who are under 18 before August 31 of the application year, click "Read more" in the end to download and submit GUARANTEE STATEMENT.
3.Applicants must comply with the regulations (JW〔2020〕No. 12) issued by Ministry of Education of People's Republic of China.
Application Deadline

1. For scholarship program: 29th February, 2024.
2. For self-sponsored program: 30th June, 2024.
Program List
Normal Undergraduate Programs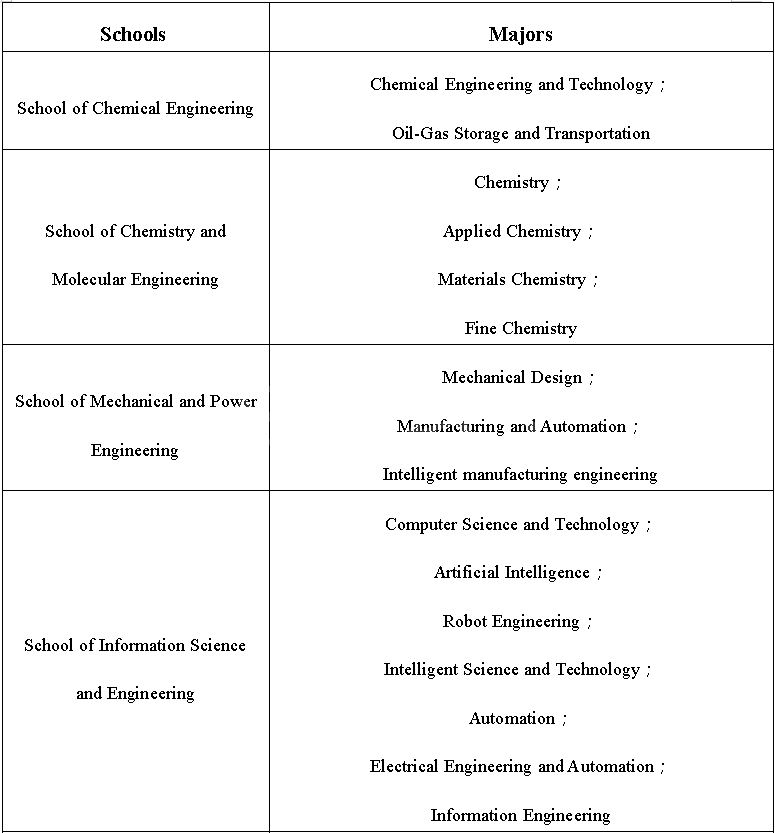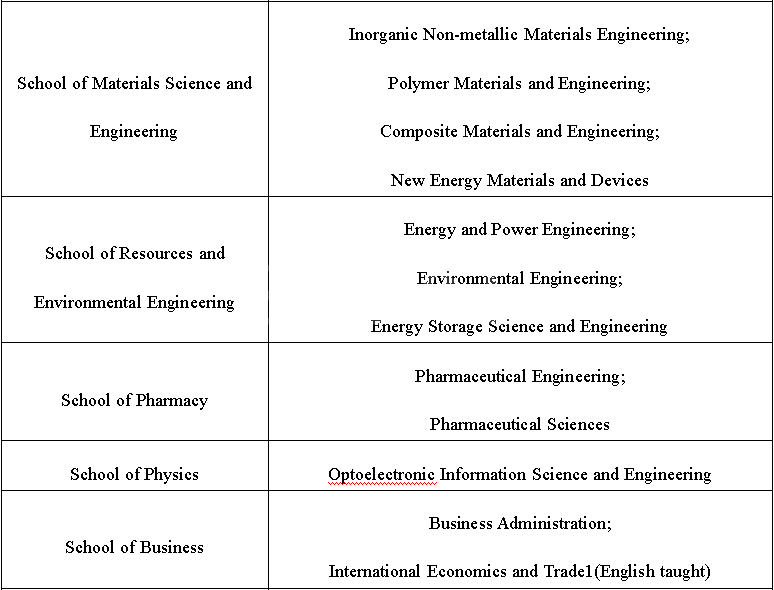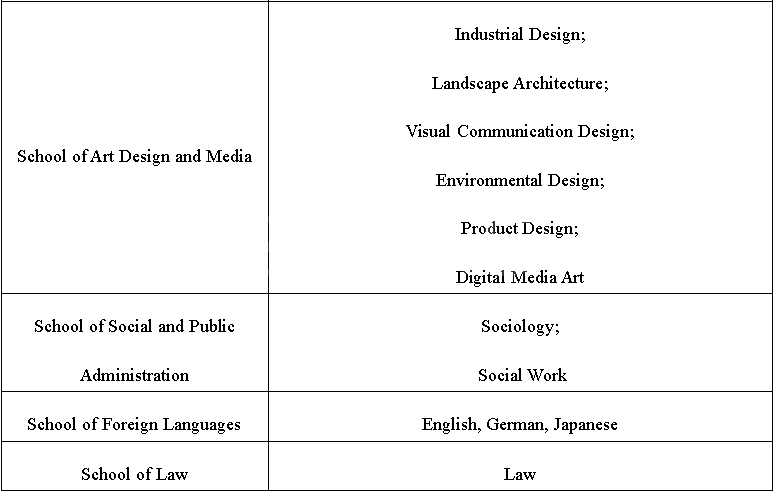 Joint Multi-degree Programs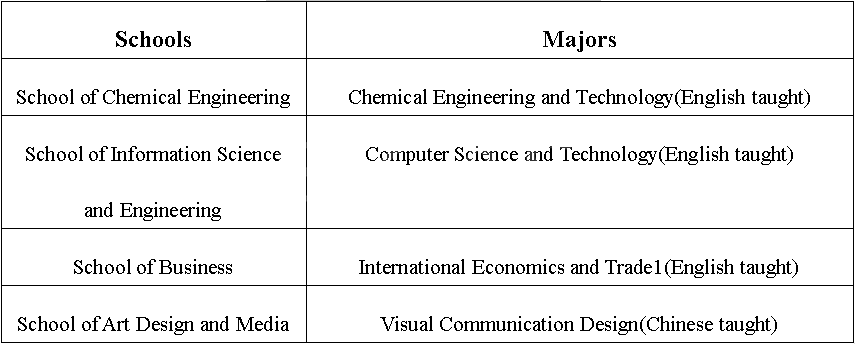 * For these programmes, students will study at ECUST for the first 2 years, and the third year in one of the partner universities abroad, and get double degrees after graduation.
Application Materials
1. Passport (personal information page and visa page if in China, validity of over 6 months)
2. High school diploma or equivalent certificate
** Prospective diploma recipients must submit an official document issued by the current school to prove the current study status and expected graduation date. If applicants are admitted, a scan copy of the graduation and degree certificate shall be sent before registration
3. Transcripts of all courses in high school or results of international standardization test (A-LEVEL/IB/IGCSE/AP/SAT/ACT/BC/UEC/STPM etc.)
4. Proof of Chinese or English language proficiency (certificates obtained on and after September 1st 2021 is valid.)
· Chinese-taught Programs: minimum request of HSK4 (a score of 210 or above for business/liberal/arts programs and a score of 190 or above for Engineering/Science programs). Those who are taught in Chinese in high school can provide the school certificate for exemption from HSK scores
· English-taught Programs: minimum request of IELTS 5.5/TOEFL 70, or provide school proof of English-taught programs during previous study. Native English speakers do not need to submit the English Proficiency Certificate
5. Study Plan (minimum of 600 words with introduction of yourself and your family, reasons for choosing ECUST and the major)
6. Non-criminal Record Certificate. If applicant is unable to get one at home country, please sign Non-criminal Record Affirmation. International students studying in China can submit a certificate of no bad performance issued by school
7. Statement of Financial Support
8. Foreigner Physical Examination Form with validity of less than 6 months when submission (applicants for scholarship must submit)
9. Additional documents when necessary (applicants in design programs should submit at least 1 art work)
** Click "Read more" in the end to download the templates of 6,7,8
** Only Chinese or English documents are accepted, if not, notarized copy of Chinese or English translation shall be provided. Application documents will not be returned, no matter the application is successful or not.
Application Procedure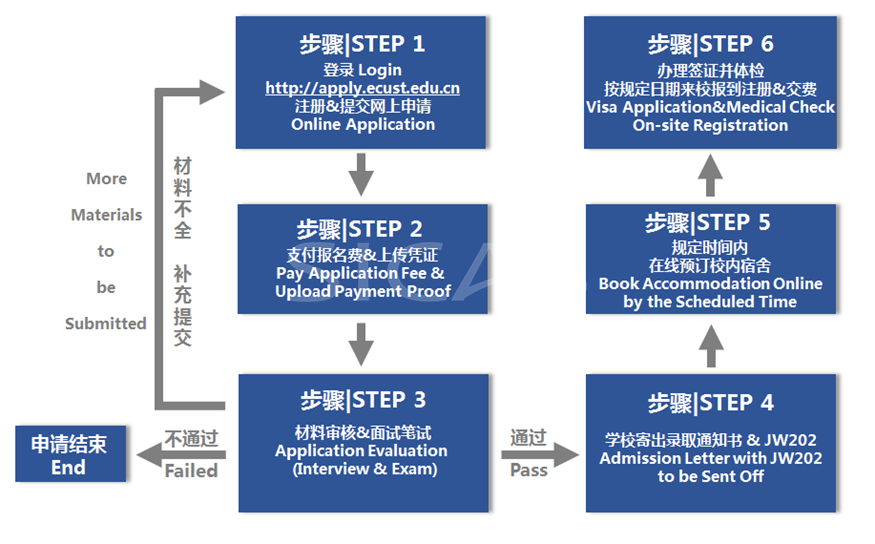 Program Duration and Cost

The program duration is 4 years, with a maximum of 6 years; the course credits are valid for 6 years since the enrollment.
Application Fee: 600RMB
Tuition Fee
Chinese Taught: 22000RMB/year
English Taught: 40000 RMB/year
Arts Major: 30000RMB/year
Accommodation Fee:
80 or 110CNY/Day
(electricity bill excluded)
Insurance: 800RMB/year
* Application fee is non-refundable, which should be paid when submitting the application.
* Annual tuition fee should be paid upon registration at the beginning of each academic year.
Language Requirements for Graduation

Chinese-taught program: achieve level 5 or above in terms of International Standards of Chinese Language Proficiency
English-taught program: achieve level 3 or above in terms of International Standards of Chinese Language Proficiency
Precaution
1. After admission, students may not register at two universities at the same time, which will result in cancellation of their study status.
2. Students must register in the duration specified by the university. If fail to report to the university after the deadline, students will be regarded as having automatically given up their student status and will be disqualified from receiving the scholarship.
3. Bring the original relevant certificates and supporting materials for inspection when you register. 4. Scholarship winners are required to participate in the annual scholarship review. Students who fail in the review will have their scholarship eligibility suspended or cancelled; also, major or study period are not allowed to be changed.
click here to find more courses in ECUST.
How to apply
Study In China Admission System ( SICAS, http://www.sicas.com.cn ) is authorized exclusively to help international students on getting admission to Tshinghua University in a safe, efficient and accurate way.

Just four steps to apply Chinese Universities on SICAS Website
Contact us for details.
You can easily get all the most useful information for free on our website:

Email:service@sicas.cn
Tel/ Wechat/ Whatsapp: + 86-15318861816





You can scan this QR code to Add SICAS official wechat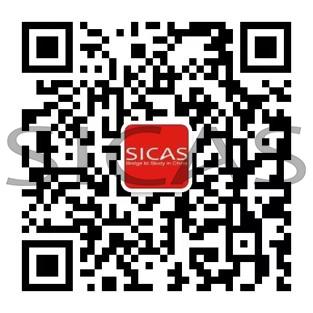 You can scan this QR code to Add SICAS official WhatsApp