Upon Your Arrival
Jinan International Airport (TNA)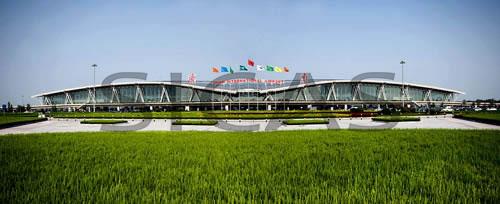 The airport is situated about 33 kilometres (21 mi) northeast of the city center of Jinan and to the north of the town of Yaoqiang which the airport's name is derived from. The airport is connected to the Jiqing (Jinan – Qingdao) and Jingfu (Beijing – Fuzhou) expressways by road. Covering an area of about 56.8 acres, Jinan International Airport is one of China's top airports. It is also the largest passenger airport in Shandong.
How Can I Get to My University from Jinan Airport?
SICAS Airport Pick-up Service

If you want to meet us at Jinan International Airport, you can book an airport pick-up service with SICAS.
By Shuttle Bus
1. From the downtown Jinan to the airport: You can take the bus in front of Yuquan Simpson Hotel and Bus Station in Railway Station Square The bus runs every an hour from 6:00 to 19:00.
2. From the airport to the downtown Jinan: Exit Gate 3, 4, 1/F, Arrival Hall
First Flight arrival till 18:00: airport bus run to Jinan Railway Station
After 18:00: the bus run to Yuquan Simpson Hotel
The bus fare is CNY20 and the whole journey takes about an hour. It cost over CNY100 to take a taxi from the airport to the city center, Quancheng Square, or the Sofitel Silver Plaza in the downtown Jinan.Besides, there are also direct buses running between Jinan airport to other cities in Shandong Province.
By Taxi
You may find that taxis are a cheap option in Jinan. Fares start at RMB 7 or RMB 9 (depending on the make of car) which covers the first 3kilometers of your trip, with a surcharge of between RMB1.5 and RMB2.5 for every additional kilometer. If you cannot speak Chinese, make sure that you have a map, or know the name of your destination in Chinese. The taxi services are well developed in Jinan. It can take you anywhere you want to go.
SICAS Reminder:
Taxi Complaint Tel: 0531-12319
Jinan Dazhong Taxi Co, Ltd.
Add: 112 Jingshi Lu, Jinan
Tel: 0531-82966666
Shandong Jinsui Taxi Company
Add: south end of Wanhuan Donglu, Lixia District, Jinan
Tel: 0531-8952823
Travel Around Jinan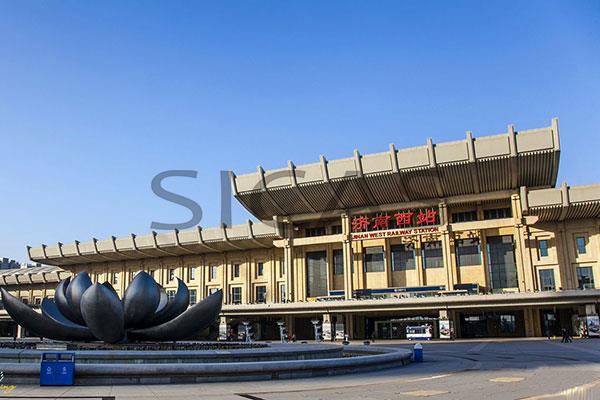 By Train
There are two railway stations in Jinan: Jinan Railway Station and Jinan East Railway Station. The former one is the largest in Shandong Province. Railway lines Beijing-Shanghai and Qingdao-Jinan pass and stop at Jinan City. It also connects Jinan with other large cities, Shanghai, Guangzhou, Lianyungang, Xian, Urumqi and Hangzhou, etc.
A ticket office is located on the west side on Floor 1 of Jinan Railway Station. Tickets can be purchased one week in advance and it also deals with the return of tickets. A word of warning: it is a common phenomenon that during the May Day and National Day Holidays, either air tickets or the train tickets are in short supply due to huge demand.
Jinan East Railway Station is the stopover from trains operating between Qingdao-Dandong, Qingdao-Taiyuan and Beijing-Weihai.
Railway Station Inquiry Numbers: 0531-86012520, 86943693, 95001818, 96519
By Long-Distance Bus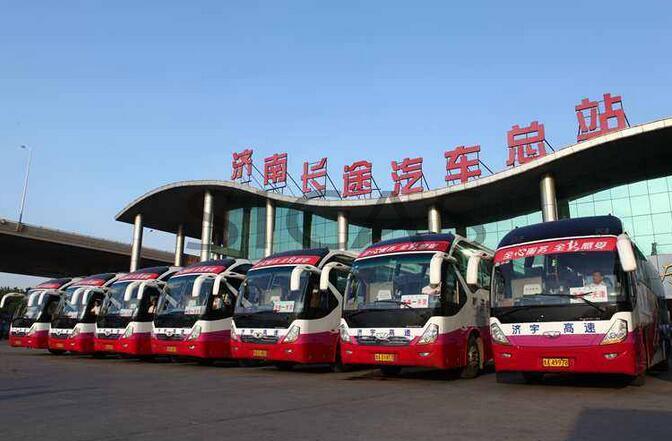 Jinan long-distance bus station
The express ways, Beijing-Shanghai, Jinan-Qingdao, Jinan-Liaocheng and four national highways, Beijing-Fuzhou, Binzhou-Zhengzhou, Qingdao-Shijiazhuang and Rongcheng-Lanzhou all pass by Jinan.
There are two major coach stations in Jinan.
One is Jinan Coach Terminal, No.131, Jiluo Lu, and Jinan. Coaches here mainly head for the cities of Shandong Province and the big neighboring cities. Special tourist lines to famous sights inside Shandong Province are also in operation. The other is the East Coach Station, on Jiefang Lu, Jinan. Coaches which operate in the morning, connect Jinan and cities of other provinces like Taiyuan of Shanxi Province, Shijiazhuang of Hebei Province and Puyang City of Henan Province. Coaches to cities inside Shandong such as Heze, Linyi, Qufu and Tai'an operate in the afternoon.