Many international students coming to Jinan are attracted by the aromatic, scrumptious, fresh and pure dishes there. The methods of cooking used in the preparation of local foods vary a great deal, including deep-frying, grilling, frying and stir-frying. Nutritious soup is an important feature of Jinan cuisine. Many dishes have gained the nationwide fame, such as Sweet and Sour Carp, Fried Pork Chitterlings and Jinan Roast Duck, which are very popular local delicacies.
Lu cuisine has a long history and far-reaching influence in China. It has constituted a crucial part of Chinese culinary culture. Just like the Chuan dishes of Sichuan, the Canton Cuisine of Gunagdong, and the Xiang dishes of Hunan, Shandong is well-known for its Lu dishes, and Jinan is home to the Lu Cuisine, one of the four cuisines in China. Lu Cuisine refers to Shangdong dishes, featuring dense taste and favor of shallot and garlic, especially apt at the cooking of seafood, soup and a variety of bowels. Famous flavored dishes include Dezhou braised boneless chicken, braised Yellow River carp with sweet and sour taste and so on.
Recommended Restaurants in Jinan
Here are some famous restaurants where you can enjoy Jinan cuisine
Huiquan Restaurant
Location: No.201, Baotu Quan Bei Lu, Jinan
Specialty: Sweet and Sour Carp
Weishan Hu Restaurant:
Location: No.18, Jida Lu, Jinan
Specialty: Black fish, which can be prepared in three different ways.
Daming Hu Restaurant
Location: south to the southeast gate of Daming Lake, Jinan
Specialty: Squirrel Fish (here 'squirrel' refers to the cooking method!)
Ju Feng De Restaurant
Location: Jingwu Lu, Jinan
Specialties: Fin and Crab Cream Soup, Fried Pork Chitterlings
Snacks
Quancheng Steamed Stuffed Bun
Location: No.2, Nanmen Dajie (Nanmen Street), Jinan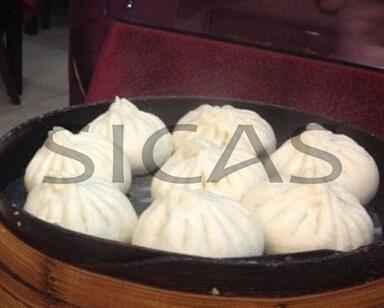 ●You Xuan is another local snack and is a kind of fried cake. It is another specialty in Jinan which gains great popularity. The finished You Xuan is golden and crisp on the outside with a soft inside; it is particularly delicious when eaten with wonton.
●Spring Roll
Jinan people carry out the custom of making Spring Rolls in the spring. They are sold in restaurants and the popular version has a variety of wild vegetable as its stuffing.
●Wuren Bao (Five-Stuffing Steamed Bun)
The name implies that this steamed bun has five kind of fillings. They are peanut meat, sesame meat, almond, walnut meat, and melon seed meat. The other ingredients are jujube meat cube and sugar, which add more flavors to the bun.
Delicacies Street
It is a street that runs from the Jing Shiyi Lu in the east to the Yingxiong Shan Lu in the west, where visitors can enjoy snacks from all over the China. You can try a wide variety of snacks in just one place.
Quancheng Lu is a street with a long history, so you can be sure to find traditional Chinese restaurants here. In addition, you will have the opportunity to find delicacies from all over the world if you prefer any of the numerous western fast food chains and restaurants, such as the Pizza Hut, KFC, and California Beef Noodle King. This is the reason why the Quancheng Lu is called Jiinan's 'Golden Food Street'.
There are three other food streets near Quancheng Lu, Wei Xiang, Furong Jie and Shengfu Qian Jie. Over thirty wonton species are served in Xiao Canglang Wonton Restaurant, located at the north end of Wei Xiang.
Vegetarian Restaurant
Su Wei Ping Sheng Restaurant
Location: Complex Building, No.10, Kai Yuan Xi Qu San Lu, Lixia District, and Jinan
You can reach there by bus No.64, 79, K51 and K68.
Specialties: the restaurant promises: free fruits before dinner; purified water used in cooking; no monosodium glutamate is added to food and no smoke, no meat, no eggs and no garlic, leek, scallion or shallot.
Auran Halal Food in Jinan
Given the conditions that some internationnal students stick to muslim diet, we would like to introduce some halal food in addition to the local delicacies. Nowadays there are almost one hundred thousand muslims in Jinan. They strictly stick to muslim diet, too. One famous local muslim snack restaurant is called Huangshihexiang steamed buns with stuffing (皇氏荷香灌汤包). If you are interested in Xinjiang cuisine, Big Plate Chiken, Xinjiang Restaurant, Xinjiangju will be your best choices.
Laogen Restaurant and Dongxishun Restaurant both provide Mongolian Hot-pot with traditional bronze pot. Tasty mutton made in various ways can easily whet everyone's appetite.
SICAS Reminder:
Please be aware that it is very common to see wines served at Halal restaurants in China.