Living on Campus
Introduction
Life on campus is very convenient and safe. Most Chinese students will choose to live in the dormitories on campus because of its reasonable prices, complete facilities and safe surroundings. Most of china's universities provide international students dormitories for foreign students. Usually there are single-room, double-room and three-room dormitories for foreign students. The students can choose what they like. Most of the dormitories are equipped with necessary facilities including internet access, TV, basic furniture, toilet, telephone or even kitchens. Universities in the north also provide heaters in winter. As to the fees it is quite reasonable. However, the prices vary greatly from 20 RMB/day to 100 RMB/day determined by different universities and different types of dormitories.
Fee Structure
1.Accommodation fee:

Double Room: RMB 30/day RMB 4500/semester
Four-person Room: RMB 15/day RMB 2250/semester

3.Insurance: RMB 606/year; RMB 303/six months

4.Deposit for accommodation: RMB 500/year

5.Deposit for dorm room key: RMB 100/year

6. Textbook Fee: RMB 38/year
7. Bedding: RMB 400
8. Residence permit: RMB 400/year(pay at Entry Administration Bureau)
Living off campus
If you don't like to live on campus, you can choose to rent a room near your campus or join a local homestay family. Rent a House, apartment or flat.
Most of the universities will allow foreign students to live off campus while you have to inform the university and get the permission from the university first before you make the arrangement. Some schools may have strict accommodation regulation for the sake of students' safety so you may be required to go through some official forms to get the permission for living off campus.
Off Campus hotels (click the pics to enlarge)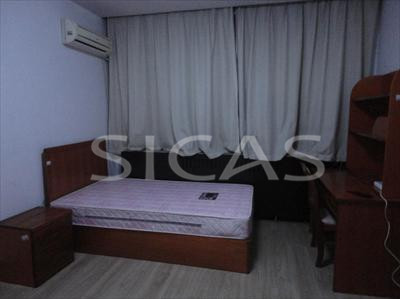 Average Rents for off-campus living
Depending on different cities, here is the general rang of the price for renting:
One-bedroom apartment: RMB 800-2500 per month
Two-bedroom apartment: RMB 1000-4500 per month
Three-bedroom apartment: RMB 1500-8000 per month
What's more, the price varies depending on the condition of the apartment, facilities/furnishings, and especially the location