1. Campus Accommodation
Two international students' apartment buildings are provided at present (No.8 and No.17 Building at Wenchang Campus), with around 500 dormitories, which are available for those international students who have been admitted formally at CUMT.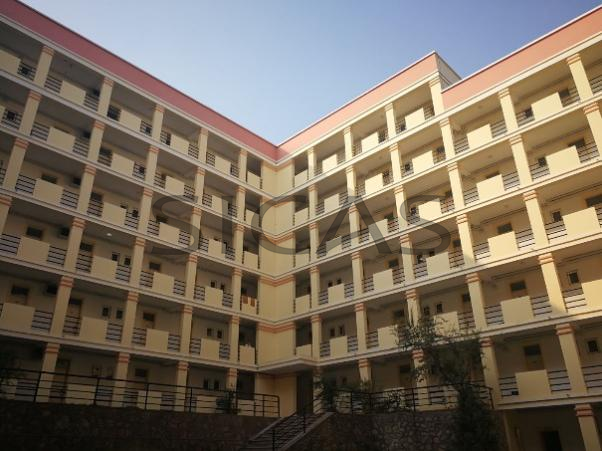 A corner of the international students' apartment building
Shared kitchen for international students
*24 hours surveillance system in dorm, with safe and cozy environment
*Twin room offered for international students technically
*Air-conditioner, heating system, independent bathroom and internet available
*Shared kitchen, laundry and recreation room in apartment building
*Fees for accommodation: 3000RMB/person/year (twin room)
2. Outside Living
For some personal living habit or some other special reasons, those international students who have studied at CUMT for more than one year can apply to the college for the eligibility of living outside campus.
Requirements (at least one should be met):
a. Be fluent in using Chinese language to communicate, with no criminal or other adverse record
b. With some relative or guardian living in Xuzhou City
c. With family member or for the reason of health, not suitable for dormitory living
d. Other special circumstances
Procedure of application for outside living
Personal application (in written form illustrating the reason and necessity)
College assessment (fill in the required form)
Sign the lease (confirm the property certificate and the property rent lease)
Temporary lodging registration (register with the local police station within 24 hours of moving in with the following documents: personal passport, residence permit, property rent lease)
Filing at the college (Registration Form of Temporary Lodging for Foreigners and Property Rent Lease)
Address modification
Complete
While living outside campus, the international students and the family members should abide by Chinese laws and regulations, respect Chinese conventions and social morality, observe public order, avoid disturbing social security, comply with the administration of local community. Taking part-time job, doing business or preaching religious beliefs illegally and providing venue for other illegal activities are all prohibited.
Registration for accommodation
International students should check in for accommodation within 24 hours of entry into China.
(1) If the student lives in a hotel, the hotel owner is responsible for the registration in accordance with the regulation of security administration of hospitality industry, and report the information to the local police authority.
(2) The student lives on campus, please scan the following QR code with Wechat, register personal information and submit the required personal lodging information.
(
3) If the student lives somewhere other than a hotel, he/she or the property owner should register the information with the local police station within 24 hours of dwelling.